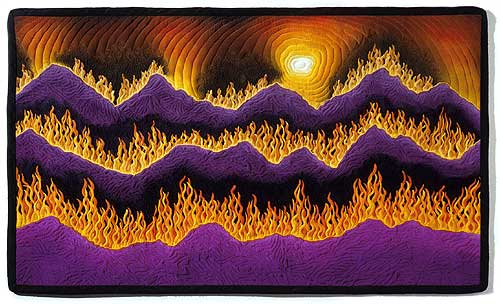 Copyright ©2004 Linda Gass. Photograph by James Dewrance.
Title: Reclamation
Dimensions: 37 x 22 inches
Purchase information: This artwork is available for sale and it's also featured in a pack of greeting cards available in my online store.
Artist Statement: Summer is fire season in the American West. I grew up in Southern California and every year the wild lands around us would burn. The smell of smoke in the air and the brilliant sunsets caused by airborne ash and gases are indelible memories. The destruction is devastating: homes are lost and whole ecosystems vanish. At the same time, the fire is the shadow side to the beauty of renewal. I often wonder if fire is nature's way of reclaiming its wild lands and giving them a chance to regrow into their truly wild state.
Materials and Techniques: The front of quilt is hand painted silk crepe de chine using an ancient Japanese technique of wax resist dyeing called Roketsu-zome . The process dates back to 710 AD and was used to add patterning to kimono silks. Layers of silk dyes and special smooth wax are applied with a brush to create the design. The backing is silk broadcloth and the batting is polyester and the whole quilt is machine quilted using nylon monofilament thread.
Detail: Click here for a detail image of the quilt
Exhibition History: October 27 - December 2, 2006 California Heritage Museum, Santa Monica, CA
June 21 - 24, 2006 Expo Magic Quilt, Lyon, France
March 5 - April 16, 2005 at the Sandra J. Blain Gallery, Arrowmont School of Arts and Crafts, Gatlinburg, TN.