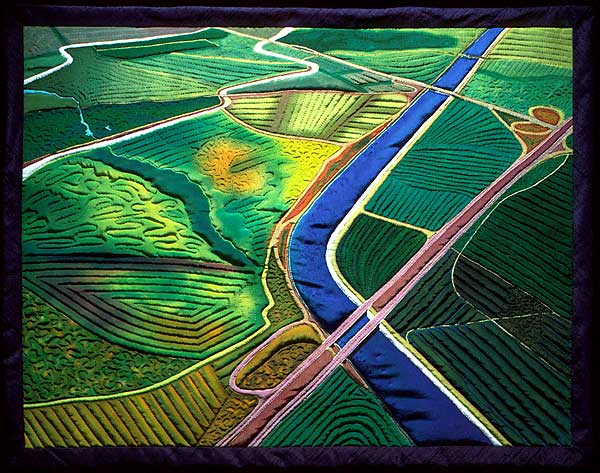 Copyright ©1998 Linda Gass
Title: After the Gold Rush
Dimensions: 26 x 21 inches
Where to see: This artwork is in the collection of the International Quilt Museum in Lincoln, Nebraska.
Purchase information: The original artwork is not for sale (see above) however there are prints, tea towels and greeting cards available in my online store with the artwork on it.
Artist Statement: I grew up in California and have spent countless hours exploring the beauty of its mountains and deserts. In this quilt I have tried to beautify an unnatural landscape through a play of color and texture on silk. The landscape is I-5, a major transportation artery, crossing the California Aqueduct, the man-made river that moves water from north to south and irrigates farm fields in what once was a desert. This is the second mining of California and hence the name of the quilt. (Inspired by a photograph by Ray Atkeson, courtesy of the Ray Atkeson Image Archive.)
Materials and Techniques: Silk crepe de chine hand painted using acid dyes, water-based resist, salt, and alcohol techniques; machine quilted with monofilament and rayon threads.
Detail: Click here for a detail image of the quilt
Exhibition History: May 18 - June 20, 2010 Triton Museum, Santa Clara, CA
December 1, 2006 - February 2, 2007 Herndon Gallery, Antioch College, Yellow Springs, OH
April 28 - October 20, 2006 California Art Quilts, California Heritage Museum, Santa Monica, CA.
August - October 2005The Ever-Changing Landscape, Kentucky Museum of Art and Craft, Louisville, KY
May 1999 - June 2001 Quilt National 1999 Dairy Barn Cultural Arts Center, Athens, OH & on tour.
Additional Info: This quilt was awarded the Rookie Award in Quilt National '99. The quilt has been published in The Best in Contemporary Quilts, Art Quilts: A Celebration, Batik for Artists and Quilters and The Big Book of Quilting. It also appears in the Quilts 2008 Calendar. To learn more about these books, click on the image of the cover below: