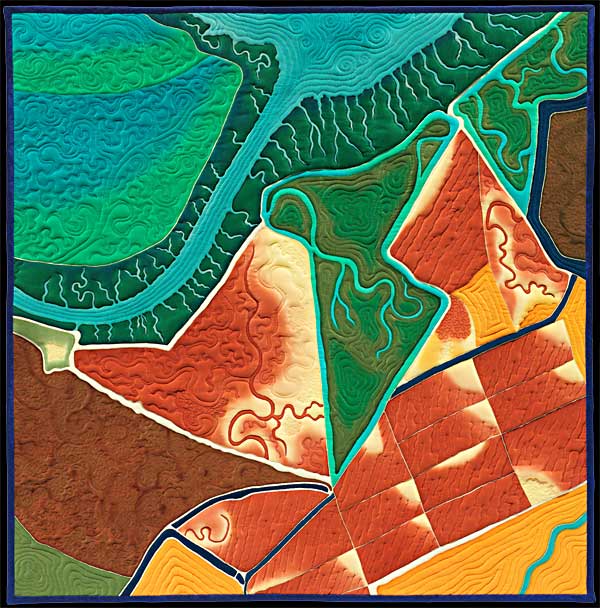 Copyright ©2006 Linda Gass. Photograph by Don Tuttle.
Title: In Transition
Dimensions: 28.75" w x 29" h
Artist Statement: In Transition shows an aerial view of salt ponds near Newark, California. The wetlands that once occupied this part of San Francisco Bay were converted to salt ponds between 1897 and 1931. These ponds are still owned and operated by Cargill for industrial salt production. In Transition is an imagined landscape of hope: some of the salt ponds have been painted to look like wetlands in the process of restoration.
Materials and Techniques: Silk crepe de chine hand painted using acid dyes and gutta-serti. Silk broadcloth backing and polyester batting; machine quilted with rayon embroidery thread.
Detail: Click here for a detail image of the quilt
Exhibition History: June 8 - September 3, 2006 at the Bellevue Arts Museum, Bellevue, WA.
May 18 - July 1, 2007 in Mapping the Territory at the Crafts Alliance, St. Louis, MO.
March 18 - April 22, 2010 at the The Art Gallery, SF State University, San Francisco, CA.
May 18 - June 20, 2010 Triton Museum, Santa Clara, CA
August 31, 2013 - February 23, 2014 at the Oakland Museum, Oakland, CA.

Additional Info: This artwork is featured in a pack of greeting cards available in my online store. This artwork appeared in the catalog for Mapping the Territory.